Are you outlets worn out, broken or simply no longer working properly? Do the plugs keep falling out of the sockets? Let Dollens Electric's train electrician's help.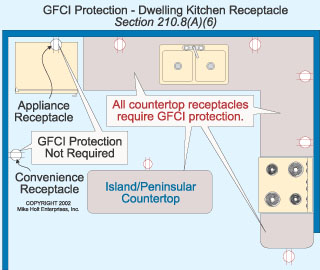 The code requires two or more 20-ampere circuits for all receptacle outlets for the small-appliance loads, including refrigeration equipment, in the kitchen, dining room, pantry, and breakfast room of a dwelling unit. The countertop receptacle outlets in kitchens must be supplied by no fewer than two small- appliance branch circuits. These circuits may also supply receptacle outlets in the pantry, dining room, and breakfast room, as well as an electric clock receptacle and electric loads associated with gas-fired appliances, but these circuits are to have no other outlets. Ground fault protection is required for all receptacles serving countertop surfaces.

We accept most major forms of credit cards, including Visa, MasterCard and American Express.
All our work is backed by a 3yr parts warranty and a lifetime warranty on craftsmanship.
We also install audio/visual equipment, structured wiring / home networking, heat mats under floors in bathrooms and kitchens, crown molding with lighting, art lighting, cabinet and closet lights.  Do you have some special project in mind?  Please contact us to discuss it!
Service Area: San Jose, Santa Clara, Mountain View, Sunnyvale, Los Gatos, Los Altos, Campbell, Holy City, Cupertino, Saratoga, Redwood Estates, Milpitas, Mount Hamilton, New Almaden, Morgan Hill, San Martin, Palo Alto, Stanford, Fremont, Alviso, Gilroy, Los Altos Hills.