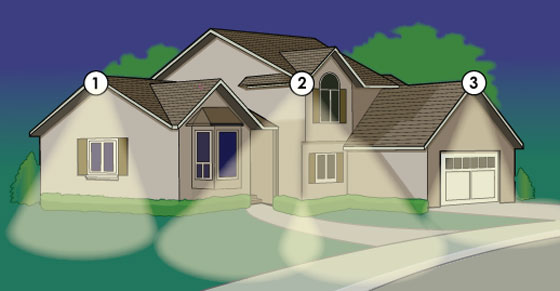 Security motion lights make your home more convenient and safe. Instead of searching for the switch to turn on an exterior light, the light can be set to turn on when it senses motion in its area. This easy illumination makes walking around your yard easier at night and can reduce the chance a burglar will approach your home at night.
Motion detector switches can also be installed in places such as public bathrooms or home garages for convenience and energy-savings, as lights only draw electricity when they are in use. This makes your home safer and lowers its potential for criminal activity.
We accept most major forms of credit cards, including Visa, MasterCard and American Express.
All our work is backed by a 3yr parts warranty and a lifetime warranty on craftsmanship.
HID Lighting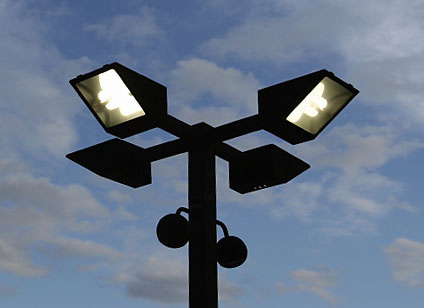 High-intensity discharge (HID) lamps are typically used when high levels of light over large areas are required, and when energy efficiency or light intensity are desired. These areas include gymnasiums, large public areas, warehouses, movie theaters, football stadiums, outdoor activity areas, roadways, parking lots, and pathways. More recently, HID lamps have been used in small retail and even residential environments because of advances in lower wattage bulbs.[1]
Property managers and owners of light commercial and industrial buildings: can install new HID fixtures and replacing HID ballasts and lamps. We have installed thousands of premium HID security wall packs, floodlights, canopy, and directional lights. Call us today to assist with your HID lighting needs.
Service Area: San Jose, Santa Clara, Mountain View, Sunnyvale, Los Gatos, Los Altos, Campbell, Holy City, Cupertino, Saratoga, Redwood Estates, Milpitas, Mount Hamilton, New Almaden, Morgan Hill, San Martin, Palo Alto, Stanford, Fremont, Alviso, Gilroy, Los Altos Hills.