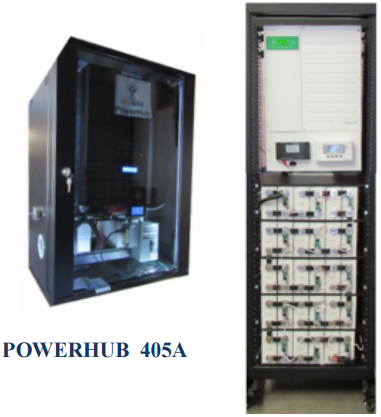 The PowerHub is a family of stand-alone power generation and management systems. The PowerHub is fully integrated, and comes preconfigured with:
Solar power even when utility power fails
Power Inverter 4.0-11.0kW, 120/240VAC
Battery storage + BMS, 5.0-20kWhrs, 48VDC
Battery charger and solar charge controller
Built-in AC transfer switch
Solar Ready 1.0kW to 8kW array
Connectors for 240V, 50A AC input and output power
Input for 240V, 30A generator input
Cloud-based timing control of utility interconnect
The PowerHub is feature rich and a user-friendly system that saves money at installation and for years into the future!
SOLAR POWER WHEN UTILITY IS DOWN
Now solar users can have solar power during utility failure (no batteries required). Systems with batteries provide additional around-theclock power backup and load time shifting options.
ENERGY STORAGE VERSATILITY
The PowerHub is compatible with multiple battery technologies including AGM or Lithium Iron Phosphate. Battery charging is supported by utility grid and/or solar power.
EASY INSTALLATION
The PowerHub is delivered pre-wired and ready to go. This assures customers do not need to worry about on-site construction, equipment compatibility or initial equipment failure.
TIME-OF-USE (TOU) SHIFTING
The PowerHub significantly reduces energy bills by automatically shifting electrical demand to stored energy during periods when utility rates are highest.
PEAK DEMAND REDUCTION
The PowerHub eliminates expensive peak demand charges by automatically filling electrical load with battery energy when approaching a peak demand threshold.
OFF GRID
The PowerHub operates in grid-tie or standalone modes. This feature allows residential or commercial users to operate
ABOUT SUNNYCAL SOLAR
SunnyCal Solar has been providing turn-key solar power systems for more than a decade.From our production facility in Central California, we ship direct to customer sites, and have a network of trained installation contractors.