Whole House Fans
May 31, 2017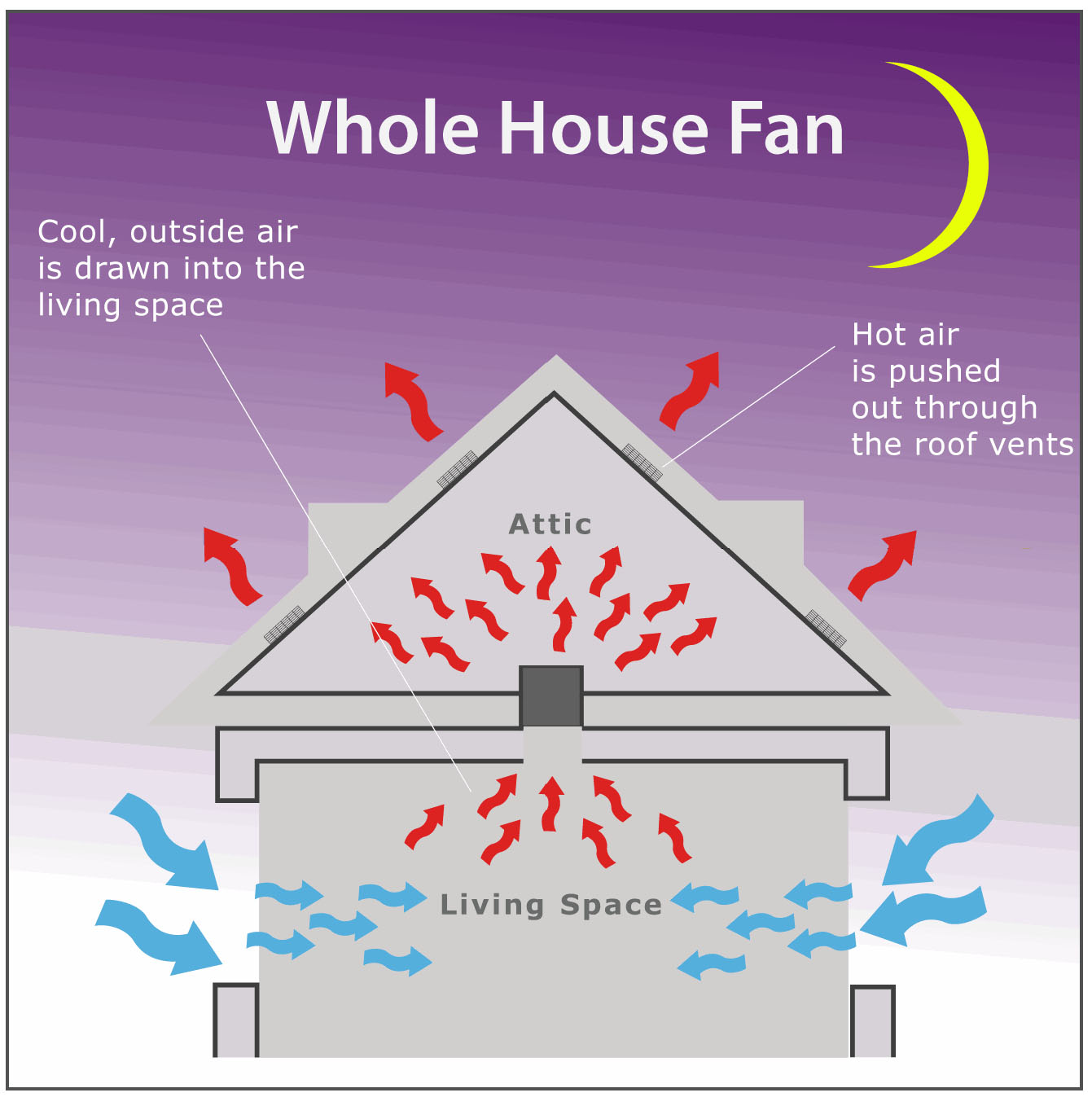 Ventilation Fans To Consider
Summer has arrived, and so has trying to find ways to keep a house cool during the warmer months. A recent
article
by ABC news says that electricity rates in California are due to go up by up to 80%! People do not always like to spend extra money on electric bills each month just to have an air conditioner for this task. There are cheaper alternatives to this costly increase on the electric bill. One of the best options is to use modern, whole house fans.
Savings on Electric Bill
One of the first things people will notice about their electric bills when using a whole house fan is that it does not raise the electric bill much. An air conditioner, on the other hand, requires 3000 watts or more of power. At the most, whole house fans will use at least 140 fewer watts than that.
Low Speeds are Good
Most modern fans are great at operating on low speeds. They do not break down over time as much as older fans, and they do so without using much electricity. These fans are also great at pushing cool air through the house and hot air out through the ceiling and then the roof. They can usually do so without higher speeds, which mean they will also be less noisy.
Less Dirt and Fewer Allergens
Older fans generally operated like a helicopter in the way that they would draw air into a house. Modern models do not do this task, so it does not force air and all of the debris in it into the house. Modern fans, especially when operating at lower speeds, do not work as hard to force air through the house. This factor is essential for people who have asthma and other breathing problems as it means softening their breathing experience.
Installing a Whole House Fan
In most cases, a professional needs to be hired in order to install one of these fans. They will be able to make the right assessment of where to place the fan in the house and how to wire it into a home's electrical system. The professionals at San Jose Electrician are the best option for this task. They provide a three year warranty on their work, and they work closely with people to make sure their goals for cooling their home is achieved.
Placement of the Whole Fan Unit
In most cases, people will place their whole house fan unit in their attic. In this location, it is easy to direct cooler air down through the house and elevate hot air toward the roof so it can be pushed out by ventilation systems. More accurately, a whole house fan ends up in the floor joists between the upper most story of the house and the attic for this very reason.
Operating a Whole House Fan
In most cases, whole house fans can be operated with a dial or control panel that sits in the wall. It operates similarly to a thermostat. In most cases, though, people can use a remote control to control the fan as well.
Conclusion
Purchasing a whole house fan is a great way to replace an air conditioner in a home. It saves a great deal of money on the electric bill over time, too. The best company to go through for installing this fan system into a home is a San Jose Electrician. Dollens Electric will get the job done right the first time. Call (408) 929-6100 today to get your Whole House Fan setup!