Protect your whole house from harmful electrical surges! Dollens Electric can install a whole-house surge protector in your electrical panel, for the appliances in the home. A surge protector can cut the level of power supply to an appropriate level. Whenever there is an upsurge of power supply into the home's electrical panel. Your whole-house surge protector will protect the sensitive electronics in your home around the clock, leaving you with peace of mind.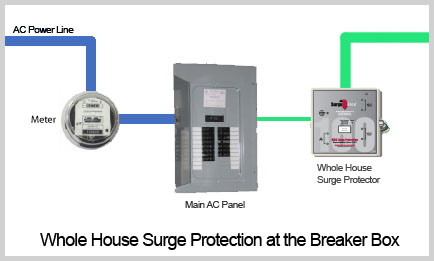 Many people get their surge protectors linked with one or several appliances and/or electronic devices. These usually involve bars equipped with reset switching and there is room for 4 or 5 plugs in most cases. Such bar can plug into a regular electrical outlet. If too much electricity is supplied through this outlet, that bar will automatically click off to protect the appliances, which are plugged in with it.
As you can understand, this is for just one outlet only. Additionally, the protection is meant only for the particular items that are connected to that bar. Nevertheless, having the whole house covered against   electricity surge doesn't mean you have one of such devices linked to each outlet in the house.
For appropriate surge protection for your whole house, you'll require a protector wired into the electrical panel. Such devices are a bit tough to find. Still, in most cases, an electrician can get you one from a vendor or manufacturer selling electrical supplies to professionals
Usually, there are 2 varieties. While a variety comes with wires stemming from the unit's back, the other one comes with side outlets. Many units have overall voltage capacity of 500 watts. Additionally, these units come with audible alarm as well as warning lights. Getting such a unit installed in a home involves expensive propositions. Still, a whole house   protector can provide you with the guarantee that your home and its inhabitants get decent protection against power upsurge.
Do you need your computer and the entire house protected against electricity surge? Then consider calling Dollens Electric to install an appropriate whole house electrical protector that guards your computer as well as the whole home.
All our work is backed by a 3yr parts warranty and a lifetime warranty on craftsmanship.
We accept most major forms of credit cards, including Visa, MasterCard and American Express.
Service Area: San Jose, Santa Clara, Mountain View, Sunnyvale, Los Gatos, Los Altos, Campbell, Holy City, Cupertino, Saratoga, Redwood Estates, Milpitas, Mount Hamilton, New Almaden, Morgan Hill, San Martin, Palo Alto, Stanford, Fremont, Alviso, Gilroy, Los Altos Hills