A Whole House fan offers energy savings
Nobody likes to waste money. But if you spend a lot of money on electricity to run your home air conditioner, you are most definitely wasting money. You need electric light in your house. Why would you use an old incandescent 60W bulb, when you can use a new 12W CFL bulb to provide the same light (and much less heat)? This same principle applies to home cooling. Why would you run an air conditioner that may use 3000 Watts or more, when you could use a whole house fan to accomplish the same task and use 140 Watts or less?
Modern fans operate on a more tolerable basis, continuously drawing low-speed cool air into your home and forcing the hot ceiling air into the attic space. This simultaneously forces superheated air out of the attic. Whole house fans of today are different. Fans of the past operated like helicopters, drawing a windstorm of air and dirt into your house.
We recommend installing state-of-the-art whole house fans made by AIRSCAPE Corp. These units provide impressive performance, and are extremely quiet. They are about the same noise level as a typical bath fan.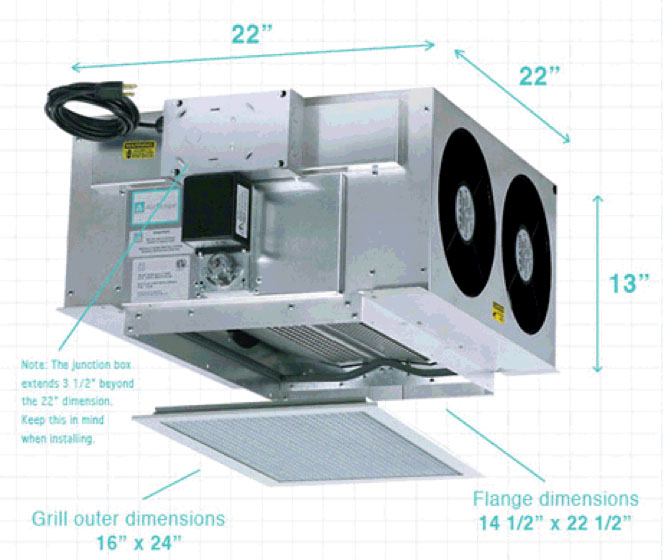 This model (see picture to the right) fits between most floor joist spacing's, so no cutting is required. The end result is that only the grill is visible in the ceiling.
* Remote control, wall switch or deluxe timer thermostat can both be installed if desired.
All our work is backed by a 3yr parts warranty and a lifetime warranty on craftsmanship.
We accept most major forms of credit cards, including Visa, MasterCard and American Express.
Service Area: San Jose, Santa Clara, Mountain View, Sunnyvale, Los Gatos, Los Altos, Campbell, Holy City, Cupertino, Saratoga, Redwood Estates, Milpitas, Mount Hamilton, New Almaden, Morgan Hill, San Martin, Palo Alto, Stanford, Fremont, Alviso, Gilroy, Los Altos Hills