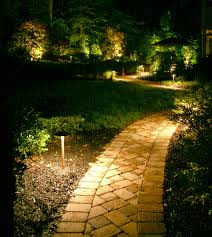 Dollens Electric works closely with the homeowner to achieve the desired outdoor lighting for your landscape which enhances the beauty of your home's architecture and landscaping property while providing safety and security. Landscape lighting also allows you to take advantage of your outdoor spaces after dark. Recessed porch lights, tree up-lights, post lights, front door lights, and hardwired path lights can illuminate darkened walkways, trees, decks, and more add ambience and beauty to your outdoor spaces. Our remote control units can ensure your lights turn on at dusk and off at a pre-set time or dusk to dawn.
We accept most major forms of credit cards, including Visa, MasterCard and American Express.
All our work is backed by a 3yr parts warranty and a lifetime warranty on craftsmanship.
It is important to note that many cities have implemented special building codes related to the type of lighting you are allowed to use outdoors. Check with your local building inspection office regarding this issue before installing outdoor lighting.
Service Area: San Jose, Santa Clara, Mountain View, Sunnyvale, Los Gatos, Los Altos, Campbell, Holy City, Cupertino, Saratoga, Redwood Estates, Milpitas, Mount Hamilton, New Almaden, Morgan Hill, San Martin, Palo Alto, Stanford, Fremont, Alviso, Gilroy, Los Altos Hills.